The new combined spray + adiabatic system
400% MORE CAPACITY THAN A DRY EXCHANGER
EMERITUS® is the latest innovation developed for the dry cooler, condenser and CO2 gas cooler families from LU-VE Exchangers.
Available for: HFC, NH3, Propane, CO2
The operating principle of Emeritus®
This new technological advance (patent pending) is the result of collaboration with the Polytechnic University of Milan and brings together the benefits of spray systems and adiabatic pre-cooling, all assisted by an advanced control system.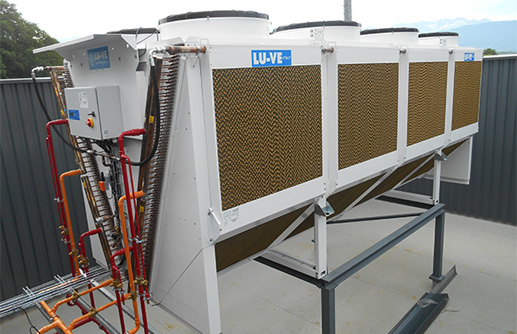 Applications
The specific features of this product make it especially suitable for use in air conditioning and refrigeration. When EMERITUS® is applied to CO2 gas coolers, high system COP can be reached even during the hottest hours of the year, extending the geographical limits where trans-critical systems can be cost-effectively constructed (the "CO2 equator").
I vantaggi della tecnologia Emeritus®


Potenza
fino a +400% rispetto ai tradizionali scambiatori ventilati a secco


Efficienza
Riduzione del DT1 di funzionamento con benefici sul COP dell'impianto


Silenziosità
riduzione fino a 6 dB(A) del livello sonoro a parità di potenza


Risparmio sui consumi elettrici
fino al 60%


Ridotta carica di refrigerante


Riduzione sui consumi d'acqua
fino al 95% (rispetto alle tradizionali torri operative)


Controllo automatico qualità dell'acqua
equipaggiato con sensori che monitorano in modo continuo la qualità dell'acqua


Protezione
il pacco alettato è realizzato in una nuova lega magnesio-alluminio ricoperta da un trattamento speciale (ALUPLUS®) che garantisce una elevata protezione contro la corrosione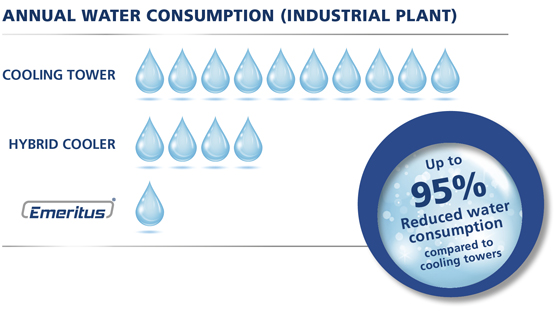 Consumi d'acqua ridotti
Utilizzando i raffreddatori di liquido e i condensatori EMERITUS® come alternativa ai tradizionali condensatori e torri evaporative comporta dei significativi vantaggi in termini di consumi d'acqua.
Sistema di controllo intelligente
Con funzioni innovative e di semplice utilizzo, oltre alla gestione della ventilazione elettronica (EC), il sofisticato software memorizza l'ammontare delle ore di funzionamento di ogni rampa del circuito spray e di ogni pannello adiabatico. Grazie alla "logica di rotazione" determina quale sistema attivare, ottimizzando il numero di ore di funzionamento in modalità spray.