OPERATE WITH GREATER CONFIDENCE
A building rarely runs at full load; why not get the chiller that delivers exactly the load you need at any given moment? Daikin's Navigator maps its performance to your building's demand. With Daikin's proprietary Variable Volume Ratio (VVR) technology, Navigator is poised to meet a building's HVAC demands as climate and usage needs ebb and flow.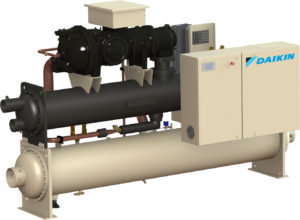 CHART A CONFIDENT COURSE
Fix your sights on higher levels of efficiency. Built on Daikin Applied innovation—variable speed and Variable Volume Ratio (VVR) compressor technology—the Navigator gives you the power of efficiencies that meet or exceed ASHRAE 90.1 – 2016 levels. With IPLVs as low as 0.36 kw/ton, Navigator single VFD-driven compressor brings new levels of performance to applications that aren't suited to traditional centrifugal or magnetic bearing solutions.
COMPRESSOR SENSES OFF-DESIGN CONDITIONS, ADJUSTING TO LOWER ENERGY USE
Navigator's performance is optimized for every condition and at every hour of the day with Variable Volume Ratio (VVR) technology. VVR compression technology senses the precise amount of lift needed and adjusts the compression ratio on the fly to deliver optimal efficiency, regardless of ambient temperature or time of day. With VVR technology, you don't pay for over-compression, and get exactly the lift needed.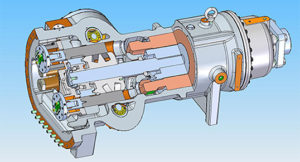 ADVANCED TECHNOLOGY SETS NEW STANDARD FOR PERFORMANCE
With NavigatorRapidRestore, restore cooling and peace of mind in as fast as 35 seconds. A power loss could turn into a critical loss of cooling in mission critical facilities such as data centers, health care buildings, or manufacturing processes. In addition, the fast-loading option can restore full load cooling capacity in under 160 seconds. So you can restore critical cooling before it's missed.